The Hespeler Village Market gets bigger and better every year! 
Located in downtown Hespeler at the corner of Tannery Street and Queen Street East, the urban and seasonal market and community hub has expanded its Friday hours this year. An extra half an hour was added to the opening hours this year to accommodate customers' needs. New hours are from 3:00 pm-7:30 pm. The site also hosts the most vendors, a mixture of food, alcohol, and artisan vendors, it has ever had.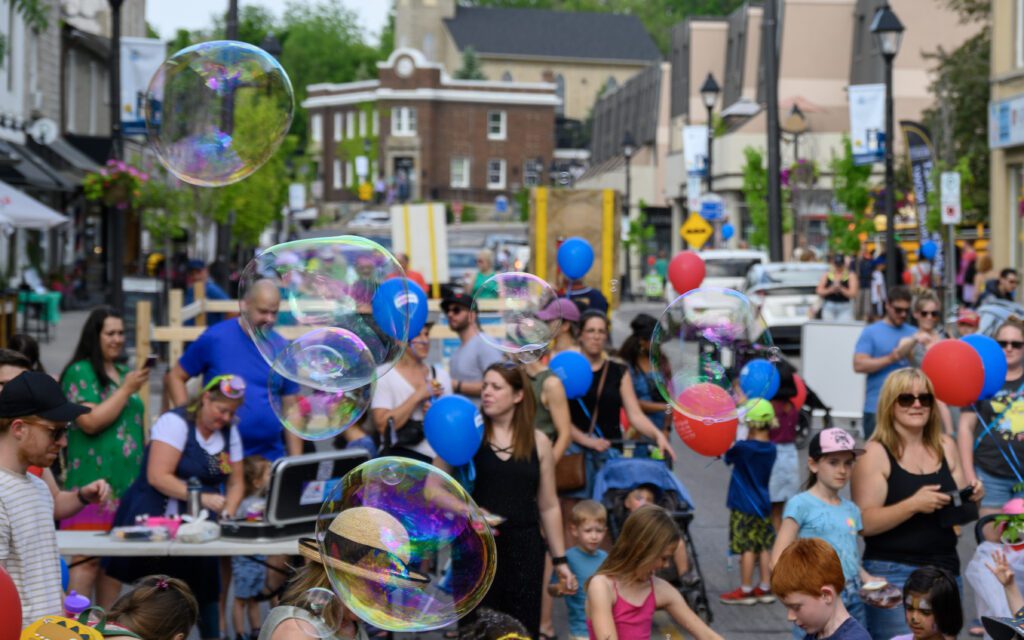 Food vendors include those who have been a vendor at the Hespeler Village Market for more than one year including Bittersweettart, Alexandra's Farm, Wellington Greens, Top Market Meats, O & V Tasting Room Elmira, Olive Haven, Jamadian Patties+, The Burrs and the Bees Honey, the Cambridge Food Bank, and Hellspeler Pepper Company, as well as those who are new this year, such as Barb's Produce, Superior Meats, Terroir Bakery, AP Bakery, Flavours by Taruneet, Fred's Honey, and Sorry Sauce. All produce sold at the market must be Ontario grown.
Regular alcohol vendors include Pillitteri Estates Winery and Revel Cider. Every week there are two craft beer vendors: Wave Maker Craft Brewery and Jackass Brewery rotate weeks, and one craft beer vendor comes from one of five members of the Guelph Beer Group.
Artisan products are hand-crafted by the artisans. Veteran artisan vendor Debbie Eliis Watercolours is joined by regulars in their second year, Studs and Succulents and Transient Turtle. One of the unique features of the Hespeler Village Market is that vendors don't have to commit to a full or even a half season, so customers will discover new vendors all season long. Part time artisan vendors include Nadica Naturals, Clyde Stone Farm, Hooked Creations, and Okika.
Consult our website for a list of all our vendors.
In the gazebo, you can find a rotation of community groups ready to serve up palate pleasing delights. BBQers include The Company of Neighbours, the Hespeler Shamrocks, and the Cambridge Food Bank. Cypriannas Pizzeria also is a regular in the gazebo this year, offering pizza, salads, and gyros. The Cambridge Firefighters will host a corn "roast" in September.
Located behind the gazebo is the Kids Zone where the kids can have a blast. Most weeks Idea Exchange-Hespeler leads a craft (from 3:00 pm-5pm). The Melissa Francis Team with their RE/MAX KidZone and the Worm Wrangler bring their fun activities once a month. New and very popular this year is the petting zoo with goats and chicks courtesy of Hespeler Little Farm. Later in the season the market will be hosting some scavenger hunts for the kids.
Part of Queen Street is closed at 4:00 pm, and after that time people can head down to see the weekly entertainment. This year there has been a mix of Bhangra dancing, steel pan drumming, and the ever popular line dancing from KYnamics Dance and Fitness. Children's entertainment has included Bubbleology, Cleo the Clown, and The Relative Minors. This entertainment leads off the #walkqueen events that happen all weekend long. Customers are also invited to experience Hespeler's vibrant downtown.
Customers are also welcome to harvest a herb or two from the on site edible garden, planted by the City of Cambridge and maintained by Belleview Landscapes. The garden is a mixture of herbs such as dill, basil, oregano, parsley, chives, and thyme. New this year in the flourishing garden is nasturtium.
Every week a free community table is offered to charities, non-profits, and community groups for fundraising, promotion, and education purposes. Groups that have taken advantage of this opportunity to showcase their services and/or group include Shelter Movers, Garden Hespeler, Hope Clothing, Hespeler Village Neighbourhood Association, Ted Wake Centre, and Terry Fox Run.
Key to its success are the market's hard working and passionate volunteers. Every position except the market manager is filled by a volunteer. The four volunteer board members meet weekly with the market manager in order to plan for the next market day. Volunteers, many of whom are high school students, are also on site to help set up and take down the market, as well as staff the Hespeler Village Market booth. The entertainment coordinator volunteers time and energy to plan the awesome entertainment schedule. Customers may have spotted our volunteer photographer, Robin Steed of Robin Steed Photography, whose photos accompany this article, on site snapping memories.
For a minimum donation of $10, people will receive one of the Hespeler Village Market's stylish, reusable jute bags. All proceeds support the not-for-profit market, including supporting the free community table, as well as paying for repairs, and expanding entertainment offerings. The bags can be picked up during market hours. A limited number of bags will be available outside of market hours at Encore Vintage. Consult the website for details.
The website can also be consulted weekly for the vendor map plus the weekly events. Follow social media accounts for more detailed weekly announcements including when "Pop Up Mayor" will be joining us.
Shop local at the Hespeler Village Market for high quality products. The season is half over—the last day in 2023 is September 29—but the second half will be just as exciting and fun as the first half.
Website: http://www.hespelervillagemarket.com/
Instagram: hespelervillagemarket
Facebook: @hespelervillagemarket
Robin Steed Photography:
IG: @rfgsteed